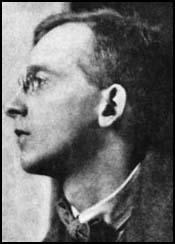 Wilfrid Wilson Gibson was born in Hexham on 2nd October, 1878. Gibson was a close friend of Rupert Brooke. His earliest published poetry was Mountain Lovers (1902) and had several poems included in various volumes of Georgian Poetry. His first play, Daily Bread , was produced in 1910.
Gibson joined the British Army but remained in England. Unlike most other poets who were officers, Gibson wrote poetry from the point of view of the ordinary foot soldier.
After the First World War Gibson continued to write poetry and plays. Gibson's work was particularly concerned with the poverty of industrial workers and village labourers. He published several volumes of poetry including Collected Poems: 1905-1925 (1926), The Island Stag (1947) and Within Four Walls (1950).
Wilfrid Wilson Gibson died on 26th May 1962.
(1) Wilfrid Wilson Gibson, Breakfast (1914)
We ate our breakfast lying on our backs

Because the shells were screeching overhead.

I bet a rasher to a loaf of bread

That Hull United would beat Halifax

When Jimmy Stainthorpe played full-back instead

Of Billy Bradford. Ginger raised his head

And cursed, and took the bet, and dropt back dead.

We ate our breakfast lying on our backs

Because the shells were stretching overhead.
(2) Wilfrid Wilson Gibson, Mad (1914)
Neck-deep in mud,

He mowed and raved -

He who had braved The field of blood -

And as a lad

Just out of school

Yelled - April Fool!

And laughed like mad.
(3) Wilfred Wilson Gibson, Lament (1916)
We who are left, how shall we look again

Happily on the sun or feel the rain

Without remembering how they who went

Ungrudgingly and spent

Their lives for us loved, too, the sun and rain?

A bird among the rain-wet lilac sings -

But we, how shall we turn to little things

And listen to the birds and winds and streams

Made holy by their dreams,

Nor feel the heart-break in the heart of things?