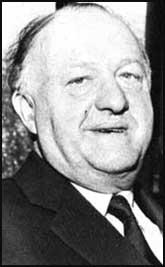 Richard Austen Butler, the son of a civil servant, was born in India in 1902. Educated at Marlboroughand Cambridge University, Butler was president of the Cambridge University Union (1924) and fellow of Corpus Christ College (1925-1929).
In the 1929 General Election, Butler won the Saffron Walden seat for the Conservative Party. Butler held a series of junior ministerial posts under Ramsay MacDonald, Stanley Baldwin and Neville Chamberlain, but in 1941, Winston Churchill made him Minister of Education.
Butler's 1944 Education Act was an attempt to create the structure for the post-war British education system. The act raised the school-leaving age to 15 and provided universal free schooling in three different types of schools; grammar, secondary modern and technical. Butler hoped that these schools would cater for the different academic levels and other aptitudes of children. Entry to these schools was based on the 11+ examination.
After the Labour Party's landslide victory in the 1945 General Election, Butler encouraged the Conservative Party to accept the principles of the welfare state. Although successful, Butler was now seen as on the left of the party.
When Winston Churchill returned to office following the 1951 General Election, Butler was appointed Chancellor of the Exchequer. Butler's Credit Squeeze Budget in 1955 was unpopular and Butler was moved to the post of leader of the House of Commons.
On the resignation of Anthony Eden in 1957, Butler was expected to become Prime Minister. However, Harold Macmillan was chosen instead. Butler served under Macmillan as Home Secretary and deputy Prime Minister but in 1963 he was again denied the leadership when William Douglas Home became premier. Butler was Foreign Secretary in Home's government until he accepted a peerage in 1965.
On retiring from politics, Butler became Master of Trinity College, Cambridge. Richard Austen Butler died in 1982.