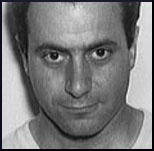 Alfred Sarant was born in New York City to a family of Greek immigrants in 1918. A brilliant student he studied electrical engineering at Cooper Union College.
A member of the Communist Party of the United States (CPUSA) during the Second World War he worked at the nuclear physics laboratory at Cornell University. (1) In 1941 Julius Rosenberg and Joel Barr were recruited as Soviet spies by Jacob Golos. They in turn persuaded Sarant to join the network.
According to Alexander Feklissov: "Joel and Alfred were good friends and spent a lot of time together. I must admit that Sarant had the makings of an undercover agent; he was a cautious young man, yet full of resolve, with progressive ideas. Before we recruited him though, he had to pass a test. Barr asked Sarant to borrow some secret documents to which he had access because he, Barr, needed them for his personal use. Alfred did not hesitate in helping his friend and in the meantime the Center approved a bona fide approach." (2) However, he was at first reluctant to become a spy but was eventually convinced to join the network by Barr. Sarant was given the code name Hughes.
Expedite consent to the joint filming of their materials by both METER (Joel Barr) and HUGHES (Alfred Salent). LIBERAL (Julius Rosenberg) has on hand eight people plus the filming of materials. The state of LIBERAL's health is nothing splendid. We are afraid of putting LIBERAL out of action with overwork.
Barr recruited Alfred Sarant, the only known member of the Rosenberg ring who was neither Jewish nor a graduate of City College of New York. Barr and Sarant were talented electrical engineers who found technical advances in radar and electronics as compelling and important as class struggle. This dual set of interests made them remarkably successful... Barr and Sarant worked on, or had access to, detailed specifications for most of the US air- and ground-based radars; the Norden bombsight; analog fire-control computers; friend-or-foe identification systems; and a variety of other technologies.
Sarant... was a handsome southern European type, with black hair slicked back, bushy eyebrows, small mustache and swarthy complexion. His dark eyes were set very deep. I had seen pictures of him smiling and now he appeared dark and unhappy, just like Barr. They both gazed at me intensely. They were, in fact very different types as I could observe during the meal. Alfred was not so tall, about five feet eight, well built, with broad shoulders full of Mediterranean exuberance. Joel Barr looked like an intellectual, over six feet tall, very thin and round-shouldered. He was losing his hair and this made his face look even longer, with his gray eyes behind his thin-rimmed glasses.