Alfred Leete, the son of a farmer, was born in Northampton on 28th August 1882. The family moved to Weston-super-Mare and he was educated at Kingsholme School before leaving at the age of 12 to be an office boy in a surveyor's office in Bristol. This was followed by jobs as a draughtsman in a furniture company and a lithographer.
In 1898, at the age of 16, Leete had his first cartoon accepted by the The Daily Graphic. A self-taught artist, his drawings appeared in The Pall Mall Gazette, The Bystander, London Opinion and The Sketch. In 1905 Punch Magazine accepted one of Leete's drawings. He now decided to become a full-time illustrator and as well as drawing cartoons, Leete also had success designing posters.
Leete also joined the Artists Rifles. The regiment largely consisted of painters, sculptors, engravers, musicians, architects and actors. Some of the artists who joined the regiment inclued William Morris, Ford Madox Brown, Luke Fildes, Charles Keene, John Leech, John Everett Millais, George Frederic Watts, Algernon Charles Swinburne, John William Waterhouse, Edward Burne-Jones, William Holman Hunt, William Frederick Yeames and Dante Gabriel Rossetti.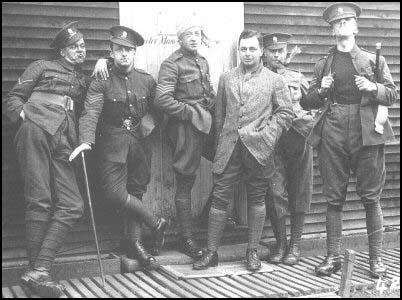 Leete's famous Lord Kitchener poster design first appeared on the cover of the weekly magazine London Opinion in September, 1914. The Parliamentary Recruiting Committee changed the wording and turned it into a poster. It was so successful at persuading men to join the British Army that James Montgomery Flagg copied the idea when the United States entered the war in 1917. It is probably the world best-known First World War poster and over the years its basic design has been used to sell a wide variety of different goods and services.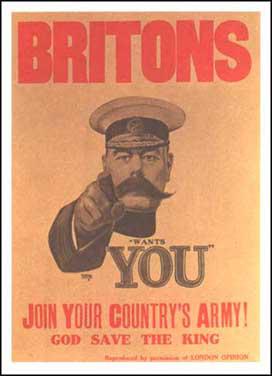 Leete also provided the illustrations for several books including All the Rumours (1916) and The Bosch Book (1916). His highly successful Schmidt the Spy strip for London Opinion was turned into a film in April 1916 by Phoenix Films with Lewis Sydney playing Schmidt.
Leete also produced advertising posters for Bovril, Ronuck Polish, Pratt's Petrol, Hector Powe, Connolly Leater, Rowntree's Chocolate and William Younger.
Alfred Leete died in London on 17th June 1933.