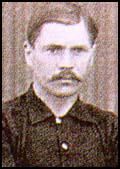 Joseph Powell was born in Bristol in 1870. After leaving school he joined the British Army. He served in the Walsall 80th Staffordshire Regiment and developed a reputation as a talented right-back and in December 1892, Woolwich Arsenal bought him out of the army.
In the 1893-94 season he became club captain. Powell was also first-choice during the 1894-95 and 1895-96 season.
On 23rd November 1896, Powell went to kick a high ball during a game against Kettering Town. His foot caught on the shoulder of an opponent and Powell fell and broke his arm. One of the men who went to his aid fainted at the sight of the protruding bone. Infection set in and, despite amputation above the elbow, Powell died a few days later when just twenty-six years of age.