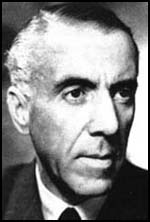 Richard Peirse, the son Admiral Sir Richard Henry Peirse and his wife, Blanche Melville Wemyss-Whittaker, was born in Croydon, on . After studying at King's College, London, he joined the Royal Flying Corps. During the First World War he went to France as an aviator where he won the DSO in 1915. He also saw action at Gallipoli and Italy during the war.
After the war Peirse joined the recently formed Royal Air Force and was commander of British forces in Palestine and Transjordan from 1933 to 1936. Promoted to vice air marshal he became Director of Operations and Intelligence at the Air Ministry and Deputy Chief of Air Staff in 1937.
In October 1940 Peirse became commander in chief of Bomber Command. His biographer, David Jordan, has argued: "Peirse was unlucky in that, although he took command during a period when bombing became the focus of British offensive operations, there were considerable demands upon resources. Bomber Command could not obtain all the equipment it required to meet expectations of what bombing could achieve. This was demonstrated most clearly in a report by D. M. Butt of the war cabinet secretariat, delivered to Peirse on 18 August 1941. Butt's studies revealed that only some 20 per cent of the bomber force was getting its bombs within 5 miles of the designated targets. Many other aircraft were failing to drop their bomb loads even within an area 75 square miles surrounding the intended targets. It was appreciated that these disappointing results could not be blamed upon Peirse's leadership; they were the consequence of inadequate training and navigation equipment. It also marked the end of Bomber Command's efforts at selective attacks on industry and completed the shift of emphasis to area bombing."

Charles Portal, chief of of the air staff, was disappointed with his performance of Peirse, and replaced him with Arthur Harris in January 1942. Peirse was moved to command the Allied air forces in South East Asia where he remained until being forced to resign by Lord Mountbatten in November 1944. The reason for him being sacked was that Mountbatten had discovered that he was having an affair with Jessie Auchinleck, the wife of his friend, Field Marshal Sir Claude Auchinleck, then Commander in Chief India. Peirse returned to England and he lived with Jessie in Brighton.
Peirse divorced his first wife, with whom he had a daughter and a son (Air Vice-Marshal Richard Peirse), and married Jessie Auchinleck, who by then was also divorced, at Poole register office on 3rd August 1946.

Richard Peirse died at Princess Mary's RAF Hospital, Wendover, on .