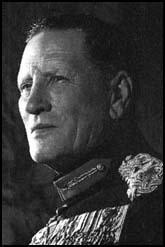 Claude Auchinleck, was born in Ulster on 21st July, 1884. Educated at Wellington College and Sandhurst Military Academy. He graduated in 1904 and was commission into the 62nd Punjab Regiment where he saw action in Egypt, Aden and Mesopotamia.
In 1933 Auchinleck joined with General Harold Alexander in repelling invading tribesmen and pacifying large regions of India. Promoted to the rank of major general he was given control of the Meerut District in 1938.
Auchinleck returned to Britain on the outbreak of the Second World War and on 7th May, 1940, he was sent to command 25,000 British, French and Polish troops in Norway. The Allies took Narvik on 28th May but when German reinforcements arrived in June 1940 Auchinleck was ordered to withdraw from Norway.
Promoted to full general he returned to India before in July, 1941, replacing General Archibald Wavell as commander in chief of British troops in the Middle East. Auchinleck soon clashed with Winston Churchill who demanded the he should immediate organize an offensive against General Erwin Rommel and the Deutsches Afrika Korps. Auchinleck insisted on having time to prepare and he did not launch Operation Crusader until 18th November, 1941.
Initially this was very successful and Erwin Rommel was forced to abandon his siege of Tobruk on 4th December, and the following month had moved as far west as Archibald Wavell had achieved a year previously. Aware that Wavell's supply lines were now overextended, and after Rommel gained obtained reinforcements from Tripoli he launched a counterattack It was now the turn of the British Army to retreat.
After losing Benghazi on 29th January, Auchinleck ordered his troops to retreat to Gazala. Over the next few months the Eighth Army, under Lieutenant General Neil Richie, established a line of fortifications and minefields. Erwin Rommel launched his offensive on 26th May. The Italian infantry attacked at the front while Rommel led his panzers round the edge of the fortifications to cut off the supply routes.
Ritchie outnumbered Rommel by two to one but he wasted his advantage by not using his tanks together. After defeating a series of small counter-attacks Rommel was able to capture Sidi Muftah. On 12th June, two of the three British armoured brigades were caught in a pincer movement and were badly defeated. Two days later Neil Richie, with only 100 tanks left, abandoned Gazala.
Rommel returned to Tobruk and took the port on 21st June, 1942. This included the capture of over 35,000 British troops. However, Rommel now only had 57 tanks left and was forced to wait for new supplies to arrive before heading into Egypt.
The following month Erwin Rommel and the Deutsches Afrika Korps were only 113km (70 miles) from Alexandria. The situation was so serious that Winston Churchill made the long journey to Egypt to discover for himself what needed to be done. Churchill decided to make changes to the command structure. On 8th August, 1942, Auchinleck was replaced by General Harold Alexander.
Auchinleck was unassigned for almost a year but on 20th June, 1943, he replaced Archibald Wavell as commander in chief of the British Army in India. He was knighted and made a field marshal in June, 1945.
After the war Auchinleck was given the task of splitting the Indian Army into the new armies of India and Pakistan. He was accused of being partial to the Pakistanis and in August 1947 Lord Mountbatten forced him to resign.
Auchinleck left India before it became independent and returned to London where he held several administrative posts until he retired in 1968 to Marrakech. Claude Auchinleck died in 1981.