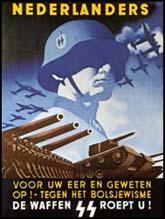 The Netherlands became a constitutional monarchy in 1839. It remained neutral in the First World War and although it was a colonial power the country remained militarily weak in the 1930s. By 1940 it had a small conscript army of fourteen divisions and an air force of only 118 aircraft.
The Dutch electorate had rejected fascist political parties in the 1930s but the general feeling was that the aggressive foreign policy of Nazi Germany could be controlled by appeasement.
When Britain and France declared war on Germany in 1939 the Netherlands remained neutral. However, this did not stop the Netherlands was invaded by the German Army on 10th May 1940. Queen Wilhelmina along with members of her family and the Dutch government managed to escape and went to live in London. After the Luftwaffe bombed of civilians the country surrendered on 15th May 1940.
Adolf Hitler sent the Austrian Arthur Seyss-Inquart to became the governor of the Netherlands. Gradually the resistance began to build up its networks and an underground press was established. The two main resistance groups were the Order Dienst, who concentrated on the gathering of intelligence, and the Knokploegen, who carried out acts of sabotage.
The trade union movement made attempts to protect the Jews in the Netherlands and in February 1941 they called an anti-persecution strike. However, they were unable to stop 100,000 Dutch Jews from being deported and murdered in extermination camps in Nazi Germany.
By 1944 an estimated 300,000 Dutch labourers and technicians were deported to Germany to work in war industries. Also deported were students in the Netherlands who refused to sign a loyalty oath.
In October 1944, to help the Allies, who had retaken the southern part of the Netherlands, the railway workers organized a strike to reduce the movement of supplies to the German Army fighting on the frontline.
The distribution of the communication network by the resistance and the Allied bombing campaigns caused severe food shortages in the Netherlands and the Royal Air Force was forced to drop emergency supplies into occupied areas. Queen Wilhelmina and her exiled government returned to the Netherlands in May 1945.