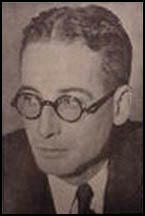 Wallace Ranking Deuel was born in 1905. After attending the University of Illinois, he worked as a journalist for the Chicago Daily News in New York City. In 1935 he became chief of the Berlin bureau. Deuel wrote about his experiences in Nazi Germany in his books, Hitler and Nazi Germany Uncensored (1941) and People Under Hitler (1942).
During the Second World War he became special assistant to the director of the Office of Strategic Services and an political adviser to General Dwight D. Eisenhower.
After the war he became diplomatic correspondent for the Washington Daily News (1945-1949). This was followed by a spell working for the St. Louis Post Dispatch and the Central Intelligence Agency. He retired from the CIA in 1972.
Wallace Ranking Deuel, who suffered from emphysema, died in May, 1974.