Fort Laramie was built by William Sublette and Robert Campbell in 1834. It obtained its name from the nearby River Laramie. Originally the fort was mainly used by mountain men trading furs and in 1838 was acquired by the Hudson's Bay Company. The fort had fifteen-foot adobe walls and a square earthen tower with loopholes. Inside the fort was a collection of small apartments, each with a door and window opening internally.
Francis Parkman later recalled: "Fort Laramie is one of the posts established by the American Fur Company, who well-nigh monopolize the Indian trade of this whole region. Here their officials rule with an absolute sway; the arm of the United States has little force; for when we were there, the extreme outposts of her troops were about seven hundred miles to the eastward. The little fort is built of bricks dried in the sun, and externally is of an oblong form, with bastions of clay, in the form of ordinary blockhouses, at two of the corners. The walls are about fifteen feet high, and surmounted by a slender palisade."
On 22nd June, 1841, the first wagon train arrived at Fort Laramie. The party was led by John Bidwell, Pierre-Jean De Smet and Tom Fitzpatrick. The Methodist preacher, Joseph Williams, was shocked when he saw that the mountain men had Native American "wives". Emigrants could buy provisions from the fort such as meat, rice, coffee, sugar and flour. However, many items were often unavailable. Visitors could also employ the blacksmith to shoe horses and repair wagon wheels.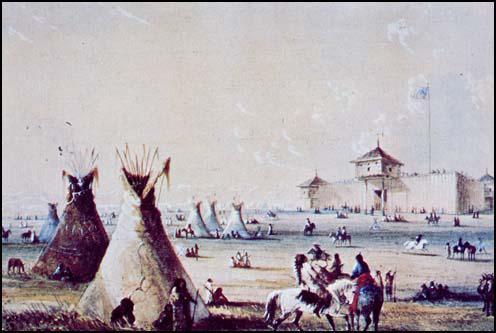 It is estimated that between 1840 and 1860 some 200,000 emigrants stopped at the fort on on their way to California and Oregon. Mormons heading for Utah also obtained supplies from the fort. Lansford Hastingsvisited the fort in 1845: "Upon arriving at Fort Larimie... we were received in a very kind and friendly manner by the gentlemen of those forts, who extended every attention to us, while we remained in their vicinity. While here several of our party disposed of' their oxen and wagons, taking horses in exchange... Many others of the party, disposed of their cows and other cattle, which had become tender footed, as from this cause, it was supposed, that they would soon, be unable to travel; but we found by experience, that by continued driving, their hoofs became more and more hardened, until they had entirely recovered."
The Sioux also traded goods at Fort Laramie. Virginia Reed wrote that: "The Sioux are fine looking Indians and I was not in the least afraid of them. They fell in love with my pony and set about bargaining to buy him. They brought buffalo robes and beautifully tanned buckskin, pretty beaded moccasins, and ropes made of grass, and placing these articles in a heap alongside several of their ponies." George Donner added: "Their ornaments were tastefully arranged, consisting of beads, feathers, and a fine shell that is got from California, bark variously colored and arranged, and the hair from the scalps they have taken in battle."
The Californian Gold Rush in 1849 brought more travellers to Fort Laramie. Later it became a military post and served as a base for military operations, communication, supply and logistics during the Great Sioux War. Fort Laramie was eventually closed in 1890.