The History of West Ham United
1895-1896
In May, 1895, West Bromwich Albion beat Aston Villa, in the FA Cup Final in front of 42,560 spectators. The game created a sensation and David Taylor, the foreman of the shipbuilding department of Thames Ironworks, suggested to Arnold Hills, that maybe the company should form its own football club.
Hills, who had been involved in a bitter industrial dispute with his employees that year, thought that the formation of a football club might help improve the mood of his workforce. On 29th June, 1895, Hills announced in his newspaper, the Thames Ironworks Gazette, that he intended to establish a football club. The information appeared under the headline: "The importance of co-operation between workers and management". He referred to the dispute that had just taken place and insisted he wanted to "wipe away the bitterness left by the recent strike". Hills added: "Thank God this midsummer madness is passed and gone; inequities and anomalies have been done away with and now, under the Good Fellowship system and Profit Sharing Scheme, every worker knows that his individual and social rights are absolutely secured."
The article asked workers interested in joining the Thames Iron Works Football Club to contact Francis Payne, a senior clerk at the company. Charlie Dove, an apprentice riveter with the Thames Iron Works, was one of those who paid an annual subscription of 2/6 (12.5p) to join the club. He was joined by about fifty other colleagues in this new venture. Training took place on Tuesday and Thursday nights in a gas-lit schoolroom at Trinity Church School in Barking Road. Training mainly consisted of Army physical training exercises. They also went for runs along the Turnpike Road (Beckton Road).
Other employees who played in the team included Thomas Freeman (ship's fireman), Johnny Stewart (boilermaker), Walter Parks (clerk), Walter Tranter (boilermaker) James Lindsay (boilermaker), William Chapman (mechanical engineer), George Sage, (boilermaker), George Gresham (ship's plater) and William Chamberlain (foreman blacksmith).
Thames Ironworks in Canning Town, was London's last surviving major shipbuilding firm. In 1860 it had employed 6,000 men, but by 1895 it was half that number, and was suffering from serious competition from companies based on the Clyde and in the north of England.
Arnold Hills hoped that he would be able to persuade local people to watch his team play. As Charles Korr points out in West Ham United: The Making of a Football Club (1986): "Dock work was casual labour, and it was essential for dockers to live close by. The Victoria and Albert Docks were the biggest single source of employment for men in West Ham, and a great deal of cheap housing was built in the Canning Town Tidal Basin and Custom House areas of West Ham near them." It is estimated that around 7,000 men living in West Ham worked as dockers. Another 20,000 worked in local factories, with around half employed in the metal and machine trades.
Hills had himself been a talented footballer and had represented Oxford against Cambridge in the varsity match. He was also good at other sports and was the A.A.A. one-mile champion while at university. Hills also played for Oxford University in the F.A. Cup Final in 1877. For many years he was a member of the Old Harrovians and in 1879 won an international cap in England's 5-4 victory against Scotland.
In Football and the English: A Social History of Association Football in England (1997) Dave Russell points out that the Thames Ironworks football club was established as part of a "wider apparatus of company leisure institutions which included a string band, a drama group and a temperance operation."
James Walvin argues in The People's Game (1994): "The football club was founded in 1895 as part of Hills's belief in the importance of cooperation between workers and management. The game would, he believed, be useful (and enjoyable) for the workers and beneficial for the company".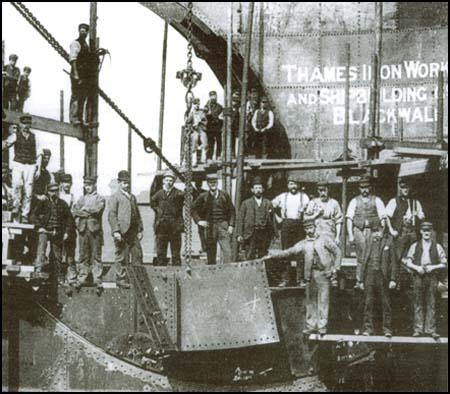 The club was financed by members' subscriptions and a generous contribution from the Thames Iron Works. It was run by a club committee made up of "clerks, foreman or supervisors at the Ironworks". As over 50 men had joined the club, it was necessary to find enough matches for two teams.
Home games took place at Hermit Road, Canning Town. It had previously been used by Old Castle Swifts, a company club sponsored by the Castle Shipping Line. Old Castle Swifts had been the first professional football club in Essex but it went out of business at the end of the 1894-1895 season.
Francis Payne was appointed as club secretary. The local newspaper praised Arnold Hills for forming a football team: "If this example were only followed by other large employers, it would lead to much good feeling."
Robert Stevenson became captain of the team. He was the Thames Iron Works most experienced footballer and had previously played for Woolwich Arsenal. Other players included John Woods, who also played cricket for Essex and George Gresham, who had been a regular scorer with Gainsborough Trinity. However, the star player was the 17 year old William Barnes.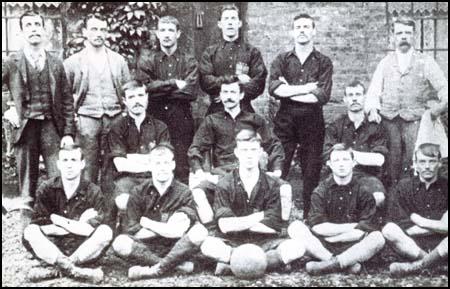 The first match was a friendly against Royal Ordnance on 7th September, 1895. The result was a 1-1 draw. This was followed by victories against Dartford, Manor Park, Streatham and Old St Stephens.
The local newspaper praised Arnold Hills for forming a football team: "If this example were only followed by other large employers, it would lead to much good feeling."
Thames Iron Works pioneered floodlit football. The pitch was surrounded by light bulbs attached to poles. The football was dipped in pails of whitewash to make it easier to see. The first night match took place on 16th December, 1895. It was later reported that "the occasion was a success". It went onto the say that the generator "met the requirements and worked well" and "ten lights each of 2,000 candle power gave a good view to those present". present".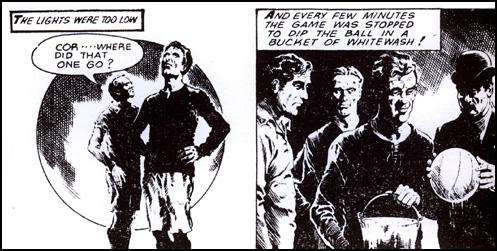 Their fourth floodlit game was against Barking Woodville. In his book, Iron in the Blood, John Powles quotes a report in the West Ham Herald: "Boys were swarming up over the fences for a free view when I put in an appearance. And what a smart man the Ironworkers have at the gate. He seemed to think my ticket was a real fraud until he had turned it upside down and inside out, and smelled at it for a considerable time. But he graciously passed me at last." The Irons won 6-2 with Charlie Dove getting a hat-trick.
On 20th March, 1896, Thames Iron Works played a night game against the famous West Bromwich Albion. The club committee arranged for the erection of canvas screens round the moat-ringed pitch, and charged the public for watching the game. WBA won 4-2.
By the end of the season the Thames Iron Works had won 30 of its 46 games. The team also defeated Barking to win the West Ham Charity Cup. The first match ended in a 2-2 draw with Robert Stevenson and Johnny Stewart scoring the goals for the Irons.
The third match took place at the St. Lukes ground at Beckton. Watched by a crowd of 3,000 people, Thomas Freeman and George Sage missed some good opportunities to open the scoring. After 20 minutes, Langford, one of Barking's forwards was forced to go off with a bad injury.
In the second-half Johnny Stewart with his "mazy runs" continued to cause Barking problems. Thomas Freeman was injured and both sides were now down to 10 men. Near the end of the game, William Chamberlain had a shot deflected for a corner. George Sage took the corner and the teenage William Barnes, fired in a low, fast shot, scoring the only goal in the game.