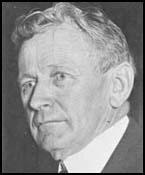 Clement Young was born in Lisbon, New Hampshire, on 28th April, 1869. After graduating from the University of California he taught English at Lowell High School in San Francisco.
Young left teaching and entered the real estate business in Berkeley. A member of the Republican Party Young won election to the State Assembly. A close friend of Hiram Johnson, in 1926 Young defeated Governor Friend Richardson in the Republican primary.
Young became Governor of California in 1927. In office he supported Prohibition and strongly opposed gambling and prostitution. He controversially refused to pardon Tom Mooney and Warren Billings, who had been wrongly imprisoned for the bombing which occurred in San Francisco in 1916.
In 1930 Young lost the nomination to Frank Merriam and retired as Governor of California in 1931.
Clement Young died in Berkeley, California, on 24th December, 1947.