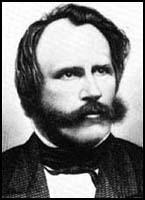 George Henry Williams was born in New Lebanon, New York, on 26th March, 1823. He studied law and was admitted to the bar in 1844 and worked as a lawyer in Fort Madison, Iowa. Williams was appointed judge of the first judicial district of Iowa (1847-1852) and chief justice of the Territory of Oregon (1853-1857).
A member of the Republican Party, Williams was elected to Congress in 1864 and became a leading figure in the group that became known as the Radical Republicans. Williams was highly critical of President Andrew Johnson and voted for his impeachment in 1868.
President Ulysses S. Grant appointed Williams as his Attorney General (1872-75). He was also nominated as Chief Justice of the Supreme Court but his name was later withdrawn. George Henry Williams, who served as mayor of Portland, Oregon (1902-05), died on 4th April, 1910.