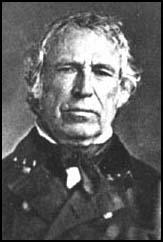 Zachary Taylor, the son of a farmer, was born in Montebello, Virginia, on 24th November, 1784. Soon after his birth the family migrated to Kentucky and in 1806 Taylor joined the United States Army.
In 1810 Taylor married Margaret Smith and the couple had six children, including Sarah Knox Taylor, who was later to marry Jefferson Davis. During the 1812 War Taylor successfully held Fort Harrison. He also took part in Black Hawk War (1832) and the Seminole Wars (1835-42) in Florida. Taylor defeated the Seminoles at Okeechobee Swamp in 1837 and was given command of the army in the South-West.
In December, 1845, James Polk, the president of the United States, announced the annexation of Texas. This marked the beginning of the Mexican War and Taylor and a 4,000 man army marched into the Rio Grande. Taylor defeated the Mexicans at Palo Alto on 8th May, 1846 and in September captured Monterrey.
Taylor upset James Polk when he granted the Mexican Army an eight-week armistice. Polk took away Taylor's best troops and ordered him to fight a defensive war. Taylor disobeyed these orders and in February, 1847, marched south and although outnumbered four to one, defeated the Mexican Army at Buena Vista.
In 1848 the Whig Party selected Taylor as its candidate for president. He obtained 1,360,101 votes and defeated the Democratic Party candidate, Lewis Cass (1,220,544) and Martin Van Buren (291,263) of the Free Soil Party.
The great issue before the nation was the problem of slavery in the land taken from Mexico. New Mexico and California were being ruled by military governors but Taylor favoured them becoming part of the United States. This became more complicated after the people of California and New Mexico approved constitutions prohibiting slavery. Taylor's son-in-law, Jefferson Davis and John Calhoun, led the pro-slavery faction in Congress that opposed the admission of California and New Mexico as free states. Zachary Taylor died on 9th July, 1850 and was replaced by his vice president, Millard Fillmore, before this issue was decided.