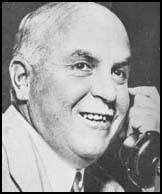 James Rolph was born on 23rd August, 1869. He owned a shipbuilding business and served as mayor of San Francisco for nineteen years. He was initially a reformer advocating the municipal ownership of streetcars, water and power facilities.
After the First World War his business declined and he came under the influence of Herbert Fleishhacker, the man who controlled the Anglo-California National Bank.
Rolph was an alcoholic and a strong opponent of Prohibition. He openly ignored the prohibition laws and once sent a case of whiskey to a man waiting to be executed. On another occasion he refused to protect two kidnappers and when they were lynched by a mob, made a statement saying that justice had been served.
A member of the Republican Party, Rolph was elected as Governor of California in 1930. He took up the post in 1931 and during his period of office the Olympic Games was held in Los Angeles and Alcatraz became a federal prison.
Rolph controversially refused to pardon Tom Mooney and Warren Billings, who had been wrongly imprisoned for the bombing which occurred in San Francisco in 1916. Roger Baldwin of the American Civil Liberties Union, commented that Rolph would not pardon Mooney and Billings unless "Fleishhacker changes his mind - which is damn unlikely according to every one who knows him."
James Rolph died in Santa Clara County, California on 2nd June, 1934.