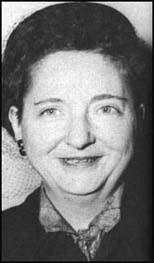 In 1945 Elizabeth Bentley, a former member of the American Communist Party, walked into the New York office of the Federal Bureau of Investigation and offered to provide information about a Soviet spy ring. Over the next couple of weeks Bentley identified more than 80 people she claimed were spies.
On 8th November, 1945, J. Edgar Hoover, sent a message to Harry S. Truman confirming that an espionage ring was operating in the United States government. For the next two years FBI agents investigated the individuals that Elizabeth Bentley had named. However, they were unable to find enough evidence to arrest any of these people.
In July 1948 Bentley appeared before the House of Un-American Activities Committee (HUAC) and during her testimony named several people she believed had been Soviet spies while working for the United States government. As a result of this testimony Bentley became known as the Red Spy Queen.
Doubts about Bentley's testimony began to emerge when it was discovered that when checked, much of it was clearly untrue. This evidence was also undermined when it became known that she was being paid by World Telegram for this material. However, information provided by Bentley eventually led to the arrest and conviction of Harry Gold, David Greenglass, Ethel Rosenberg and Julius Rosenberg for spying.