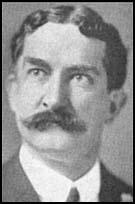 Thomas Lawson was a millionaire businessman who had made a fortune from the stock-market. Upset by the way that some of the leading business leaders had been behaving he approached John O'Hara Cosgrave, the editor of Everybody's Magazine, about him writing a series of articles on the subject. He agreed and the first of these articles appeared in July, 1904.
He wrote: "Through its workings during the last twenty years there has grown up in this country a set of colossal corporations in which unmeasured success and continued immunity from punishment have bread an insolent disregard of law, of common morality, and of public and private right, together with a grim determination to hold on to, at all hazards, the great possessions they have gulped or captured.The series ran for 20 months and gave examples of how corporations had bribed judges and politicians."
Lawson spent over $250,000 of his own money to advertise the series. He hoped that President Theodore Roosevelt would take up the case and "would shake the largest trusts and corporations until their teeth chattered and their backbones rattled like hung dried corn in a fireplace when the wind gets at it". Lawson was disappointed by the impact his articles had on public opinion and he returned to gambling on the stock-market.