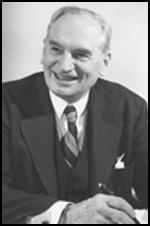 William Langer, the son of a farmer, was born in Cass County, North Dakota, on 30th September, 1886. He studied at the law department of the University of North Dakota and Columbia University in New York City. After graduating he was admitted to the bar in 1911 and began practice in Mandan.
A member of the Republican Party, Langer became attorney general of North Dakota (1916-1920). Langer was elected as Governor of North Dakota in January 1933. In February 1934, Langer was accused by Harold Ickes, the secretary of the interior, of pressing workers on federal relief to contribute his newspaper, The Leader. The following month Harry Hopkins, federal relief administrator, relieved Langer of the authority to administer federal relief.
In July 1934, Langer was removed by the State supreme court. Langer still remained popular and despite opposition from Gerald Nye, the most important political figure in North Dakota, he was elected again as governor in November, 1936. Over the next two years he convinced the legislature to appropriate almost six million dollars for child welfare, old age pensions, and general relief.
Langer was elected to the United States Senate in 1940. He was reelected in 1946, 1952, and again in 1958, and served until his death in Washington on 8th November, 1959.