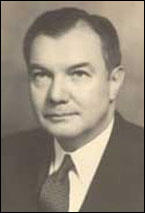 Robert Houghwout Jackson was born in Spring Creek, Pennsylvania, on 13th February, 1892. Admitted to the bar in 1913, he worked as a corporation lawyer in Jamestown.
Jackson was a supporter of Franklin D. Roosevelt. When Roosevelt became governor of New York he appointed Jackson as general counsel to the Internal Revenue Bureau. This involved the successful prosecution of Andrew Mellon for income-tax evasion. When Roosevelt became president he appointed Jackson as special counsel to the Treasury.
In 1938 Jackson became solicitor general and two years later, attorney general. In this post he had responsibility of defending New Deal legislation against opposition from the Supreme Court. As Roosevelt was to point out in a speech in 1937, seven of the nine judges (Charles Hughes, Willis Van Devanter, George Sutherland, Harlan Stone, Owen Roberts, Benjamin Cardozo and Pierce Butler) had been appointed by Republican presidents.
In 1941, when James McReynolds retired, Johnson replaced him on the Supreme Court. At the end of the Second World War he took leave from the court to serve as chief United States prosecutor in the Nuremberg Trials (1945-46).
Robert Houghwout Jackson died in Washington on 9th October, 1954.