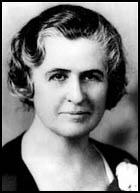 Nan Honeyman was born in Orange County, New York, on 15th July, 1881. The family moved to Portland, Oregon, three years later.
A member of the Democratic Party, Honeyman was a member of the New York State House of Representatives between 1935 and 1937. She was elected to Congress in November, 1936, and over the next few years she played a leading role in the campaign to free Tom Mooney and Warren Billings.
Honeyman was an unsuccessful candidate for reelection in 1938. She served as a senior representative of the Pacific Coast Office of Price Administration (August 1941 to May 1942) and as collector of customs in Portland (May 1942 to July 1953).
Nan Honeyman died in Woodacre, California, on 10th December, 1970.