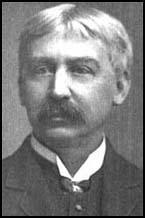 Bret Harte was born in Albany, New York in 1836. At 18 he moved to California where he worked as a prospector, a teacher and for Wells Fargo. In 1857 he began his journalistic career when he was employed by the Northern Californian. His support for Native Americans in the area was unpopular and after settlers were killed in 1860 he lost his job.
Harte moved to San Francisco where he worked for the Golden Era before becoming the editor of the Californian. One of those he employed on the journal was Mark Twain who later claimed Harte "trimmed and trained and schooled me from an awkward utterer of coarse grotesqueness to a writer of paragraphs and chapters."
In 1868 Harte became editor of the Overland Monthly when it was established in San Francisco in 1868. Over the next two years Harte established it as one of America's leading literary journals. Harte also published his own poems and stories in the journal, including the famous The Luck of Roaring Camp and Outcasts of Poker Flat.
Harte published his first collection of stories, The Luck of Roaring Camp and Other Stories, in 1870. This book was extremely popular and Harte became well-known literary figure throughout the United States. The following year he was paid $10,000 by the Atlantic Monthly to produce twelve stories a year for the journal.
Other books of stories such as Mrs Skaggs's Husbands (1873), Tales of the Argonauts (1875) and An Heiress of Red Dog and Other Sketches (1878) were published but Harte was unable to obtain the success of his first volume.
In 1878 Harte was appointed as United States consul in Germany. He obtain a similar position in Glasgow two years later. In 1885 Harte moved to England where he continued to publish collections of his stories such as A Sappho of Green Springs (1891) and Colonel Starbottle's Client (1892).
Bret Harte died in London on 5th May 1902.