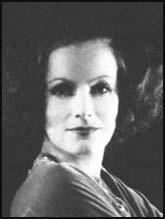 Greta Gustafsson was born in Stockholm, Sweden, on 18th September, 1905. She worked in a shop but after winning a bathing beauty competition at sixteen, she appeared in several advertising campaigns.
While studying at the Royal Theatre Dramatic School she was discovered by the film director, Mauritz Stiller. Changing her name to Greta Garbo, she starred in Stiller's film, The Atonement of Gosta Berling (1924). After appearing in The Joyless Street (1925), Garbo and Stiller emigrated to the United States.
In Hollywood she appeared in several silent films including The Temptress (1926), Flesh and the Devil (1927) and The Mysterious Lady (1928). Despite her Swedish accent, Garbo successfully switched to talking pictures with Anna Christie (1930). This was followed by Susan Lennox, Her Fall and Rise (1931), Grand Hotel (1932), Mati Hari (1932), Queen Christina (1933), Anna Karenina (1935), Camille (1937) and Ninotchka (1939).
Garbo retired after making the Two-Faced Woman (1941) and remained a total recluse for the rest of her life. Greta Garbo died in New York on 15th April, 1990.