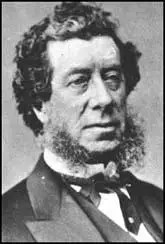 Hamilton Fish was born in New York on 3rd August, 1808. After graduating from Columbia College in 1827, he studied law and was admitted to the bar in 1830.
A member of the Whig Party, Fish was elected to the 28th Congress and took his seat in March, 1843. An unsuccessful candidate in the 29th Congress he resumed work as a lawyer. However, he returned to politics when he was elected as governor of New York in 1849.
Fish joined the Republican Party and in 1850 was elected to Congress. During the American Civil War Fish was appointed by Abraham Lincoln as one of the board of commissioners for the relief and exchange of Union Army prisoners of war in the South. He also served as chairman of the Union Defense Committee.
In 1869 President Ulysses Grant appointed Fish as his Secretary of State. During the conflict with Britain over the Alabama, Fish organized the drafting of the Treaty of Washington (May, 1871), the first major international arbitration of modern history.
He left office in 1877 and returned to his work as a lawyer in New York. Hamilton Fish died in Garrison, New York, on 7th September, 1893.