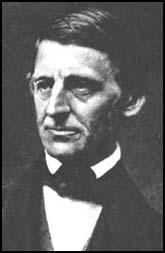 Ralph Waldo Emerson was born in Boston on 25th May, 1803. After graduating from Harvard University he became a minister of the Unitarian Church in 1829.
The death of his first wife in 1831 resulted in him questioning his religious beliefs. The following year he resigned his ministry and toured Europe. While in England he met Samuel Taylor Coleridge, William Wordsworth and Thomas Carlyle.
On his return to the United States, Emerson remarried and settled in Concorde. His first book, Nature, was published in 1836. This was followed by The American Scholar. Emerson also wrote for The Dial and in 1842 became its editor.
Emerson met a befriended Henry David Thoreau who, for a while, worked as his handyman. Under the influence of Emerson, Thoreau wrote Civil Disobedience (1849). The two men shared the belief that it was morally justified to peacefully resist unjust laws. This philosophy was reflected in his collection of lectures, Representative Men (1850) and his campaign against slavery.
A member of the Republican Party, Emerson fully supported Abraham Lincoln during the Civil War. When Lincoln signed the Emancipation Proclamation Emerson called it a momentous day for the United States.
Later books by Emerson include English Traits (1856), The Conduct of Life (1860), Society and Solitude (1870) and Letters and Social Aims (1876). Ralph Waldo Emerson died on 27th April, 1882.
Slavery in the United States (£1.29)