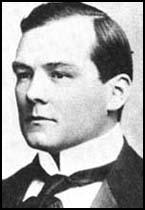 Charles Dana Gibson, the son of Charles DeWolf Gibson and Josephine Elizabeth Lovett, was born in Roxbury, Massachusetts on 14th September 1867. His great grandfather was the politician, James DeWolf.
A talented artist, he studied at the Art Students League in New York City. He sold his first drawing to Life Magazine when he was only 19. Gibson's early influences include Howard Pyle, Charles Keene and Phil May.
Gibson's illustrations also appeared in Harper's Weekly, Collier's Weekly and Scribner's Magazine. Gibson eventually obtained a full-time post with Life Magazine, where he became famous for his drawings of American high society. The young women in his drawings became known as Gibson Girls.
In 1895, he married Irene Langhorne, a sister of Nancy Astor, who later became the first woman to serve in as a Member of Parliament in the House of Commons. His wife's money enabled him to eventually become the owner and editor of Life Magazine.
Charles Dana Gibson died on 23rd December 1944.