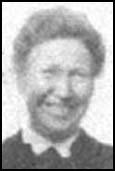 Mary Kenney was born in Hannibal, Missouri, on 8th January, 1864. After a brief formal education Kenney worked as a dressmaker to help support her invalid mother.
In 1889 Kenney moved to Chicago where she worked in several different factories. Kenney became a trade union organizer and was eventually invited to Hull House to meet Jane Addams. It was agreed that Kenney and fellow trade unionists could hold their meetings at the house.
Kenney moved into Hull House and in 1891 established the Jane Club, a co-operative house where girls with low wages could live together. There were six apartments in the house. Within a year they were all occupied with each person paying $3.00 for rent, food and services.
Working-class women, such as Kenney and Alzina Stevens, who had developed an interest in social reform as a result of their trade union work, played an important role in the education of the middle-class residents at Hull House. They in turn influenced the working-class women. As Kenney was later to say, they "gave my life new meaning and hope".
Kenney became a well-known trade union figure and in 1892 Samuel Gompers, president of the American Federation of Labour, appointed her as his first woman organizer.
In 1892, John Peter Altgeld was was elected governor of Illinois in 1892 and the following year he appointed Florence Kelley as the state's first chief factory inspector. Kelley recruited a staff of twelve, including Kenney and Alzina Stevens. In 1894 Altgeld and Kelley managed to persuade the state legislature to pass legislation controlling child labour. This included a law limiting women and children to a maximum eight-hour day. This success was short-lived and in 1895 the Illinois Association of Manufacturers got the law repealed.
Kenney moved to Boston where she married John O'Sullivan, a journalist working for The Boston Globe. She was employed by the Women's Educational and Industrial Union and helped to organize garment and laundry workers.
In 1903 Kenney joined with William Walling to form the Women's Trade Union League. The main objective of the organization was to educate women about the advantages of union membership, to support women's demands for better working conditions, and to raise awareness about the exploitation of women workers.
In November, 1914, Kenney was appointed as a factory inspector by the Department of Labor, a post she was to hold for twenty years.
Mary Kenney O'Sullivan died in West Medford on 18th January, 1943.
© John Simkin, May 2013