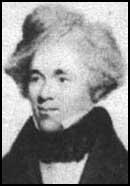 Moses Roper was born a slave in Caswell County, North Carolina. His father was the plantation owner and his mother one of Roper's black slaves. Soon after he was born, Roper's wife tried to kill Moses and he was only saved by the intervention of his grandmother.
Roper died six years later and Moses and his mother were sold to different people. Moses became the property of a slave trader who took him to Georgia. Being a mulatto, Moses was difficult to sell and so he was left with a Mr. Steed, who ran a boarding-house in Washington. After working as one of Steed's house slave Moses was hired out to a doctor and a tailor.
Eventually Moses was sold to a man called Gooch who owned a cotton plantation in South Carolina. Roper made several attempts and each time he was caught he was severely punished. In August, 1831 Roper was successful and managed to find his mother but soon afterwards he was recaptured and taken back to Gooch. This time he received 200 lashes of the whip and would have been killed but for Gooch's wife pleading for his life.
Gooch sold Roper and he became the property of Marvel Louis of Greenville, South Carolina, who employed him as a domestic slave. Later he was transferred to a man called Beveridge who owned three steamboats. Roper worked as a steward on one of these boats and this enabled him to escape.
Roper reached New York in August, 1834. After moving to Philadelphia he published his autobiography, Adventures and Escape of Moses Roper (1838).
Slavery in the United States (£1.29)