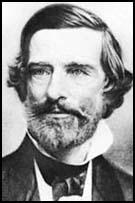 Samuel Gridley Howe was born in Boston on 10th November, 1801. He attended Harvard Medical School but in 1824 left for Greece to help the country in its fight for independence from Turkey. For the next three years Howe organised the medical staff of the Greek Army.
In 1831 Howe visited Paris where he studied new methods of educating the blind. He also visited Prussia where he became involved in the Polish insurrection. After being imprisoned briefly by the Prussian government he was allowed to return to the United States.
Inspired by what he had seen in Paris, in 1832 Howe established the Perkins School for the Blind in Boston. Howe soon emerged as the country's leading expert on the subject.
A strong opponent of slavery, in 1843 Howe married Julia Ward, a fellow member of the Anti-Slavery Society. Howe was also active in the Free-Soil Party and between 1851 and 1853 Howe and wife edited the anti-slavery journal, Commonwealth.
In 1865 Howe became chairman of the Massachusetts Board of State Charities and over the next nine years strenuously lobbied Congress to pass legislation to provide more aid for the education of the blind, deaf and mentally ill.
Samuel Gridley Howe died on 9th January, 1876.
Slavery in the United States (£1.29)