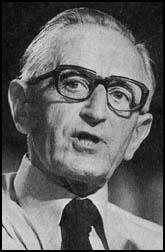 Frank Allaun was born in 27th February, 1913. He won a scholarship to Manchester Grammar School and worked as a chartered accountant before joining the Manchester Evening News as a journalist. He was later employed by the Daily Herald.
A member of the Labour Party, Allaun became parliamentary candidate in Salford East and was elected to the House of Commons in 1955.
Allaun was appointed parliamentary private secretary to the secretary of state for the colonies in October 1964. However, he resigned in protest against government policies five months later.
In 1967 Allaun was elected to the national executive committee in 1967 and held the post for 16 years. He was also served as chairman of the Labour Party (1978-79).
A member of the Campaign for Nuclear Disarmament (CND) and the Labour Peace Fellowship, Allaun wrote several books on nuclear weapons including Stop the H-Bomb Race (1959) and The Wasted 30 Billions (1975).
Frank Allaun retired from the House of Commons in 1983 but continued to be active in politics. This included writing the books Spreading the News: A Guide To Media Reform (1989) and The Struggle for Peace (1992).
Frank Allaun died on 26th November, 2002.