Sophia Sturge, the fifth of the twelve children of Joseph Sturge and Mary Marshall Sturge, was born at Elberton, Gloucestershire, on 17th August 1795. The two families had been members of the Society of Friends since the seventeenth century. (1)
Sophia was a chronic invalid and she described herself as "a victim of disease and medicine from infancy". She was educated at a school in Wellington, an experience that she remembered as "not the happiest of my life". (2)
In 1815 Sophia Sturge joined her brother Joseph Sturge (1793–1859) at Bewdley as his housekeeper. She also joined him in his campaign against slavery. According to her mother, her "great love" for Joseph was evident from their earliest days. (3) During this period Sophia was described as having a "vigorous intellect and understanding universally well informed". (4)
Sophia Sturge and Slavery
On 8th April, 1825, Sophia Sturge attended a meeting at the home of Lucy Townsend. The women decided to form the Birmingham Ladies Society for the Relief of Negro Slaves (later the group changed its name to the Female Society for Birmingham). Other members included Elizabeth Heyrick, Mary Lloyd and Sarah Wedgwood. (5) The group "promoted the sugar boycott, targeting shops as well as shoppers, visiting thousands of homes and distributing pamphlets, calling meetings and drawing petitions." (6)
The society which was, from its foundation, independent of both the national Anti-Slavery Society and of the local men's anti-slavery society. As Clare Midgley has pointed out: "It acted as the hub of a developing national network of female anti-slavery societies, rather than as a local auxiliary. It also had important international connections, and publicity on its activities in Benjamin Lundy's abolitionist periodical The Genius of Universal Emancipation influenced the formation of the first female anti-slavery societies in America". (7)
Although women were allowed to be members they were virtually excluded from its leadership. William Wilberforce disliked to militancy of the women and wrote to Thomas Babington protesting that "for ladies to meet, to publish, to go from house to house stirring up petitions - these appear to me proceedings unsuited to the female character as delineated in Scripture". (8)
The Female Society for Birmingham played an important role in the propaganda campaign against slavery. Lucy Townsend, wrote the anti-slavery pamphlet To the Law and to the Testimony (1832). "Under Lucy Townsend's and Mary Lloyd's leadership the society developed the distinctive forms of female anti-slavery activity, involving an emphasis on the sufferings of women under slavery, systematic promotion of abstention from slave-grown sugar through door-to-door canvassing, and the production of innovative forms of propaganda, such as albums containing tracts, poems, and illustrations, embroidered anti-slavery workbags." (9) It is claimed that Sophia Sturge, personally called on 3,000 households during the campaign. (10)
In 1830, the Female Society for Birmingham submitted a resolution to the National Conference of the Anti-Slavery Society calling for the organisation to campaign for an immediate end to slavery in the British colonies. Elizabeth Heyrick, who was treasurer of the organisation suggested a new strategy to persuade the male leadership to change its mind on this issue. In April 1830 they decided that the group would only give their annual £50 donation to the national anti-slavery society only "when they are willing to give up the word 'gradual' in their title." At the national conference the following month, the Anti-Slavery Society agreed to drop the words "gradual abolition" from its title. It also agreed to support Female Society's plan for a new campaign to bring about immediate abolition. (11)
Sarah Wedgwood was an active member of the group. Her husband, Josiah Wedgwood had asked one of his craftsmen to design a seal for stamping the wax used to close envelopes. It showed a kneeling African in chains, lifting his hands and included the words: "Am I Not a Man and a Brother?" This image was "reproduced everywhere from books and leaflets to snuffboxes and cufflinks". (12)
Thomas Clarkson explained: "Some had them inlaid in gold on the lid of their snuff boxes. Of the ladies, several wore them in bracelets, and others had them fitted up in an ornamental manner as pins for their hair. At length the taste for wearing them became general, and this fashion, which usually confines itself to worthless things, was seen for once in the honourable office of promoting the cause of justice, humanity and freedom." (13)
Hundreds of these images were produced. Benjamin Franklin suggested that the image was "equal to that of the best written pamphlet".Men displayed them as shirt pins and coat buttons. Whereas women used the image in bracelets, brooches and ornamental hairpins. In this way, women could show their anti-slavery opinions at a time when they were denied the vote. It is claimed that Sophia Sturge was responsible for designing the medal, "Am I Not a Slave And A Sister?" (14)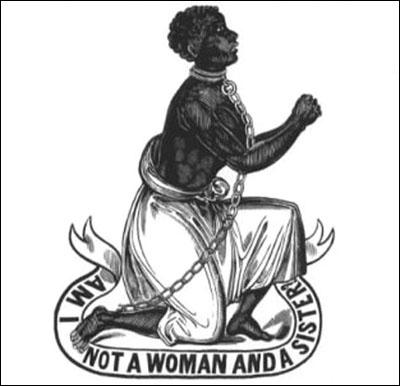 The Slavery Abolition Act was passed on 28th August 1833. This act gave all slaves in the British Empire their freedom. The British government paid £20 million in compensation to the slave owners. The amount that the plantation owners received depended on the number of slaves that they had. For example, Henry Phillpotts, the Bishop of Exeter, received £12,700 for the 665 slaves he owned. (15)
Sophia Sturge, like her brother, Joseph Sturge, became active in the Chartist movement. Birmingham was a major centre of organised female Chartist activity by late 1837 and a large number of women in the city signed suffrage petitions. (16)
In May 1842, when the House of Commons, rejected the second Chartist petition, Joseph had a meeting with Feargus O'Connor, the leader of the Physical Force movement. Joseph proposed a national campaign for "complete suffrage" on the basis of an alliance between the middle and working class. (17) Although she was disturbed by this "her views were radical enough to endorse his support of universal suffrage". (18)
Sophia and her brother were active members of the Peace Society. According to Joseph's biographer, Alex Tyrrell: "For several years after the mid-1840s Sturge was one of the leaders of a movement for people diplomacy, which attempted to create an international public opinion in favour of arbitration as a means of avoiding war. Together with Richard Cobden, Henry Richard, Elihu Burritt, and others, he organized peace congresses at Brussels, Paris, Frankfurt, London, Manchester, and Edinburgh."
Sophia Sturge died of a lung disease on 6th June 1845 at 64 Wheeleys Road, Edgbaston.
Sophia Sturge... was born at Elberton, Gloucestershire, on 17 August 1795, the fifth of the twelve children of Joseph Sturge, grazier, and Mary Marshall, only child of Thomas Marshall, steward of the marquess of Hertford. The two families had been members of the Society of Friends since the seventeenth century, and Sophia was brought up to observe the Quaker values of the day.

A chronic invalid - she described herself as a victim of disease and medicine from infancy - Sophia Sturge was educated at a school in Wellington... In the straitened circumstances of a large family her mother took a strong line against superfluous educational subjects and denied her the drawing and French lessons that she requested. The brothers and sisters subsequently compensated as best they could for their narrow education, and their correspondence shows them to have been a circle of autodidacts eagerly exchanging ideas on the literature and events of the day.

(2) Spohia Sturge, letter to John Sturge (23rd June 1829)
(3) Mary Sturge, letter to Thomas Marshall (8th December 1803)
(4) The Pilot (14th June 1845)
(11) Female Society for Birmingham, resolution passed at National Conference (8th April, 1830)