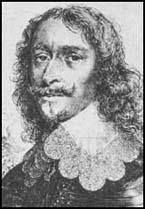 William Waller was born in about 1597. He was elected to the House of Commons in 1640 and represented Andover in Hampshire. He soon emerged as one of the leading critics of Charles I.
On the outbreak of the Civil War Waller joined the Parliamentary army and served under Robert Devereux, Earl of Essex. He fought at Edgehill (1642) and as commander of his own army he had a series of military triumphs in the south-west that obtained him the nickname "William the Conqueror". However, his reputation was damaged by a defeat at Roundway Down on 13th July, 1643.
In February 1645, Parliament decided to form a new army of professional soldiers and amalgamated the three armies of Waller, Earl of Essex and Earl of Manchester into the New Model Army. Its commander-in-chief was General Thomas Fairfax, while Oliver Cromwell was put in charge of its cavalry.
In April 1645 Waller was forced to resign from the army. He was ousted from the House of Commons by the Pride's Purge and was imprisoned for three years (1648-51). He was arrested again in 1659 and accused of plotting the return of Charles II.
On the Restoration Waller became a member of the Convention Parliament. Sir William Waller died in 1668.