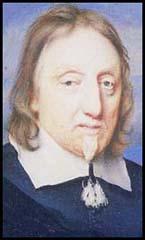 William Lenthall was born at Henley-on-Thames in 1591. Educated at Oxford University and Lincoln's Inn, he worked as a lawyer before entering the House of Commons in 1640.
Lenthall became Speaker and in January 1642 when Charles I entered Parliament and demanded to know where Arthur Haselrig, John Pym, John Hampden, Denzil Holles and William Strode were he famously replied: "May it please your Majesty, I have neither eyes to see nor tongue to speak in this place but as this House is pleased to direct me, whose servant I am here; and humbly beg your Majesty's pardon that I cannot give any other answer than this to what your Majesty is pleased to demand of me".
On the outbreak of the Civil War Lenthall supported the Parliamentary army. He accepted Pride's Purge in 1648 and did not protest when Oliver Cromwell closed down Parliament.
In 1660 Lenthall backed General George Monck and this saved him from imprisonment during the Restoration. Lenthall even gave evidence against the Regicides in October 1660.
William Lenthall retired to his estates in Burford where he died in 1662.