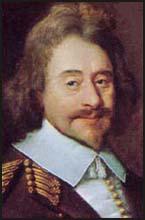 Ferdinando Fairfax was born in 1584. He became a large landowner in Yorkshire and was elected to the House of Commons in 1614.
An opponent of Charles I, on the outbreak of the Civil War he joined the Parliamentary forces. In 1642 was appointed commander of the northern army and led the infantry at Marston Moor in 1644.
In February 1645, Fairfax's son, Thomas Fairfax, became commander of the New Model Army. Soon afterwards Fairfax was appointed Governor of York. He held this post until he was killed in an accident in 1652.