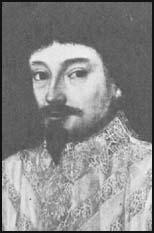 John Eliot was born in Cornwall in 1592. He was elected to the House of Commons in 1614 and was knighted in 1618. The following year he was appointed vice-admiral of Devon.
When Charles I came to the throne King Louis XIII was involved in a civil war against the Protestants (Huguenots) in France. Parliament wanted to help the Huguenots but Charles refused as he did not want to upset his wife or brother-in-law. Eventually it was agreed to send a fleet of eight ships to France. However, at the last moment Charles sent orders that the men should fight for, rather than against, Louis XIII. The captains and crews refused to accept these orders and fought against the French.
Parliament was very angry with Charles for supporting Louis XIII. When he asked for taxes of £1,000,000 they only gave him £150,000. They also asked Charles to sack his chief minister, George Villiers, Duke of Buckingham, as they thought he was guilty of giving the king bad advice. Charles refused and instead dissolved Parliament. Sir John Eliot, who had led the attacks on the king was imprisoned.
On his release Eliot led the opposition to Charles I. He was particularly critical of the king's arbitrary government and the collection of taxes with the agreement of Parliament. In 1629 Eliot was imprisoned and fined £2,000.
Sir John Eliot remained in the Tower of London until his death in 1632.