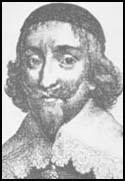 John Bastwick was born in Essex in 1593. When he finished his education at Emmanuel College, Cambridge, he took a medical degree at Padua.
Bastwick was a Puritan and he was imprisoned several times for his controversial writings. Bastwick became friendly with John Lilburne who helped him get his books and pamphlets published in Holland.
In 1637 Bastwick, Henry Burton and William Prynne had their ears cut off for writing pamphlets attacking the religious views of the William Laud, the Archbishop of Canterbury.
Bastwick was released from prison in 1640 and during the Civil War served in the Parliamentary army. After the war Bastwick, a Presbyterian, advocated the persecution of other Puritan groups such as the Anabaptists, Quakers and Congregationalists. When his old friend, John Lilburne, complained, Bastwick arranged for him to be arrested.
John Bastwick died in 1654.