Dave Marshall, the son of a railwayman, was born in Middlesbrough in 1916. His mother had been in service as a lady's maid, and both were literate and committed Methodists. After leaving school in 1934 he worked as a civil servant.
On the outbreak of the Spanish Civil War, Marshall travelled to Spain and joined the International Brigades in Barcelona in September 1936. After seven weeks in Barcelona he was sent to Albacete. He became a member of the Thaelmann Battalion and was sent to defend Madrid.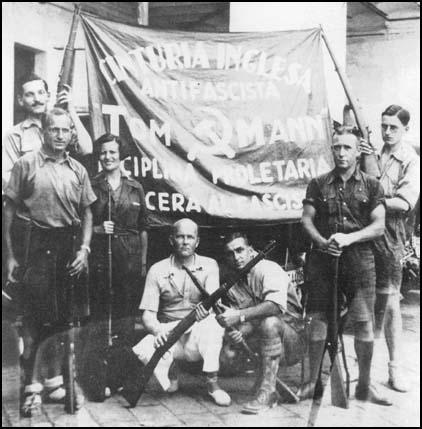 On 12th November 1936, a sniper's bullet hit him just above his ankle. He was removed by stretcher under heavy fire, then transported on a lorry for more than two hours to a field hospital. After treatment in Alicante, he was repatriated to England at the end of 1936 to campaign for aid for the republic.
When Marshall came back from that war he began to write poetry. His poem, Retrospect, was included in the anthology Poems for Spain (1939) alongside work by W.H. Auden, Louis MacNeice, Stephen Spender and Cecil Day Lewis.
On the outbreak of the Second World War he was not permitted to join the armed forces because he had been a member of the International Brigades. However, he was allowed to joined the Royal Engineers in January 1940 and took part in the Normandy landings on D-Day. Marshall also helped to liberate the Belsen Concentration Camp.
After the war Marshall returned to work for the Ministry of Labour in Middlesbrough. In 1950 he became secretary of the Middlesbrough Trades Union Club. According to Paul Preston: "By now an accomplished carpenter and with a range of building skills, he (Marshall) planned and, with the help of volunteer labour, built a hall holding 500 people with a stage for weekly dances, concerts, film shows and lectures."
In 1961, he resigned from the Ministry of Labour and moved to London where he worked as a carpenter with the Theatre Workshop under Joan Littlewood. Marshall is also the author of The Tilting Planet (2005).
David Marshall died on 19th October 2005.
(1) David Marshall, interviewed by Stephen Moss in the Guardian (10th November, 2000)
By chance one day I bought the Times and in it there was a one-inch paragraph that said there was no doubt that if the republican government won, there would be some sort of socialist state set up in Spain. Although I wasn't political, I had enough reading to realise there was a chance of a different way of life.

At the end of that month, I got my pay and bought a second pair of specs. By the end of the next month, I had enough money to get me there. I discovered that if you were under 21, you needed your parents' permission, so I forged my father's signature.
(2) David Marshall was badly wounded at Cerro de los Angeles while defending Madrid in 1937.
We were due to capture Cerro de Los Angeles - the Hill of the Angels - eight miles south of Madrid. It was a bollocks of a battle, but you don't see that at the time. We had to attack across a flat plain, in the face of artillery fire and machine-gunning. A bloke got on to me, a sharpshooter, and he put four or five bullets around me. You could hear them hitting the soil nearby. Then I got hit in the foot. It went clean through.

I was panicking by then. I was doubly frightened because they said that our flank was open and there were Moroccan troops on that side. I crawled back to some olive trees and sat down, and while I was sitting there a bloke came at me with a fixed bayonet. Luckily, it was one of the brigade, a Belgian bloke, who was as disorientated as I was. A lad helped me limp back until we met stretcher bearers and they put me on the floor of a lorry. We drove back for quite a long time until we got to a field hospital. I spent the night shivering.