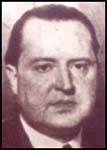 Angel Galarza was born in Spain in 1892. A member of the Socialist Party (PSOE) Francisco Largo Caballero appointed him Minister of the Interior in the Popular Front government in September 1936.
Galarza had the difficult task of running the police within the Republican zone. Juan Negrin, who replaced Largo Caballero, considered Galarza too weak to provide the necessary authority needed and sacked him in April 1938.
Angel Galarza died in 1966.