Harry Fry was a shoe-repairer from Edinburgh. He also served as a sergeant in the British Army during the First World War.
Fry held left-wing views and on the outbreak of the Spanish Civil War he joined the International Brigades. According to his wife, Fry "went to Spain because he realized the danger of Fascism and believed that his military experience could best be used in fighting it."
Fry was given command of one of the machine-gun companies in the British Battalion. His political commander, Tom Wintringham said that he was "the coolest man among bullets I have seen."
At the Battle of Jarama Fry was captured and was sentenced to death by a military court at Salamanca. However, he was freed in an exchange of prisoners in May 1937.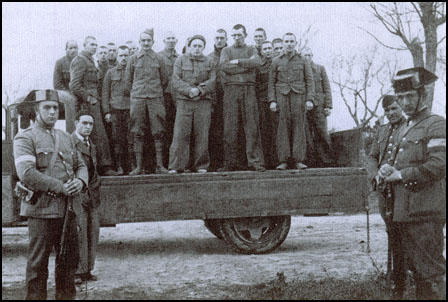 After spending a brief time in Scotland he decided to return to Spain. His wife said: "His experience of Fascist methods of warfare and the brutal treatment of prisoners behind the lines only helped to strengthen his determination to carry on the fight until Franco, Hitler and Mussolini were beaten. This is why he went back to Spain again after a short period of leave, his wound hardly healed, and without even seeing his baby boy which was born the day after he left."
On 29th September 1937 he was appointed commander of the British Battalion. He was killed at Fuentes de Elbo, near Saragossa, on 6th November 1937.