John Kay, the twelfth child of a Yeoman farmer, was born near Bury in Lancashire on 17th June, 1704. Little is known about his early life but he was living in Bury in 1730 when he patented a machine for twisting and cording mohair and worsted.
For centuries handloom weaving had been carried out on the basis of the shuttle bearing the yarn being passed slowly and awkwardly from one hand to the other. In 1733 Kay patented his flying shuttle that dramatically increased the speed of this process. Kay placed shuttle boxes at each side of the loom connected by a long board, known as a shuttle race. By means of cords attached to a picking peg, a single weaver, using one hand, could cause the shuttle to be knocked back and forth across the loom from one shuttle box to the other.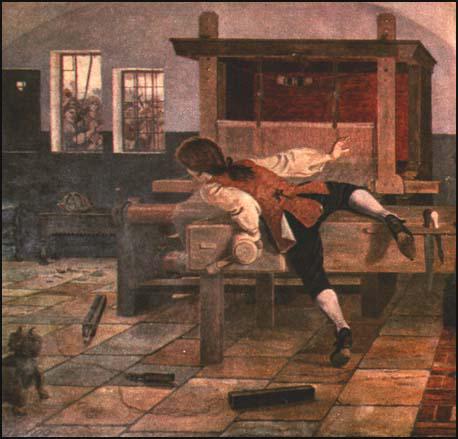 A weaver using Kay's flying shuttle could produce much wider cloth at faster speeds than before. Some woollen manufacturers used Kay's flying shuttle but were reluctant to pay him royalties. The costs of using the courts to obtain the money owed to him nearly ruined Kay.
In 1753 Kay's house in Bury was ransacked by a mob of textile workers who feared that his machines would destroy their livelihood. Deeply depressed about these events, John Kay left England for France where he is believed to have died a pauper in about 1780.