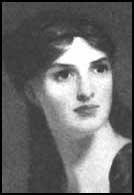 Fanny Kemble, the daughter of the actors Charles and Marie Kemble, was born in London on 27th November, 1809. She made her first appearance on the stage when she appeared as Juliet in her father's production of Romeo and Juliet on 5th October, 1829. Fanny was a great success and this role was followed by several others in her father's Covent Garden Theatre.
The theatre was £13,000 in debt when Kemble started her career as an actress but she was so popular than within a short period it was back in profit. Fanny had a sparkling personality and she soon had several elderly admirers including Sidney Smith, Thomas Macaulay and George Stephenson, who invited her to the opening of the Liverpool and Manchester Railway.
In 1833 Fanny Kemble toured America with her father. While in New York she met and married Pierce Butler, a southern planter. Fanny gave up acting for a while but after their divorce in 1848 she returned to the stage. As well as appearing in plays, Fanny gave Shakespearean readings.
Kemble retired to Lennox, Massachusetts, where she wrote several autobiographical works including Journal of a Residence on a Georgian Plantation (1863), Record of a Childhood (1878) and Records of Later Life (1882). Fanny Kemble died in London on 15th January, 1893 and five days later was buried at Kensal Green Cemetery.
(1) Fanny Kemble, a leading actress, was invited to attend the opening of the Liverpool and Manchester Railway.
The most intense curiosity and excitement prevailed, and though the weather was uncertain, enormous masses of densely packed people lined the road, shouting and waving hats and handkerchiefs as we flew by them. We travelled at 35 miles an hour (swifter than a bird flies). When I closed my eyes this sensation of flying was quite delightful.

I had been unluckily separated from my mother in the first distribution of places, but by an exchange of seats which she was enabled to make she rejoined me when I was at the height of my ecstasy, which was considerably damped by finding that she was frightened to death, and intent upon nothing but devising means of escaping from a situation which appeared to her to threaten with instant annihilation herself and all her travelling companions.

When we neared Manchester the sky grew cloudy and dark, and it began to rain. The vast concourse of people who had assembled to witness the triumphant arrival of the successful travellers was of the lowest orders of mechanics and artisans, among whom great distress and a dangerous spirit of discontent with the government at that time prevailed. Groans and hisses greeted the carriage, full of influential personages, in which the Duke of Wellington sat.

High above the grim and grimy crowd of scowling faces a loom had been erected, at which sat a tattered, starved-looking weaver, evidently set there as a representative man, to protest against the triumph of machinery and the gain and glory which the wealthy Liverpool and Manchester men were likely to derive from it.
At one time Fanny Kemble was giving a series of Shakespearian readings in New York, and often rendered generous help to benevolent institutions by the use other great talent. We hoped that she might aid our struggling infirmary by giving a public reading in its behalf. So on one occasion I called with our fellow-worker Dr. Zackrzewska at the hotel where she was staying to prefer our request. She received us courteously, listened with kindness to an explanation of the object of our visit and of the needs of the infirmary; but when she heard that the physicians of the institution were women she sprang up to her full height, turned her flashing eyes upon us, and with the deepest tragic tones other magnificent voice exclaimed: "Trust a woman - as a doctor! Never!"