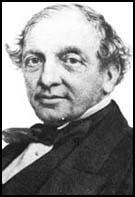 Thomas Brassey was born in Buerton near Chester in 1805. While working as a land surveyor he met George Stephenson. The two became friends and in 1834 Stephenson helped Brassey to obtain a contract to build a railway viaduct at Bromborough. Soon afterwards Joseph Locke suggested that Brassey should tender for one of the contracts to build the Grand Junction Railway. Brassey got the contract and this was the start of a long working relationship with Locke.
In 1841 Brassey obtained the contract to build the Paris & Le Havre Railway in France. Over the next ten years Brassey's company was involved in several railway projects in mainland Europe.
Brasseyreturned to England in 1843 to build the Lancaster & Carlisle Railway. Further contracts included the Caledonian Railway, the Great Northern Railway, Tilbury & Southend Railway and Shrewsbury & Hereford Railway.
Brassey was also responsible for the Victoria Docks in London and the Grand Trunk Railway in Canada. Brassey built over 6,500 miles of railway, including one-sixth of the British network and over 50% pf the railways in france. Brassey was a major employer of navviesand sometimes had over 10,000 men working for him. When Thomas Brassey died in 1870 he left £3.2 million.