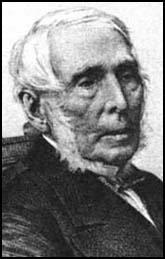 Michael Bass, the grandson of the brewer William Bass, was born on 6th July 1799. After his education at schools in Burton-on-Trent and Nottingham, Michael joined the family firm. The William Bass Brewery had been established in 1777. Initially the company concentrated on exporting its beer to India. The opening of the Trent & Mersey Canal greatly benefited the Burton Breweries and the company expanded rapidly.
In 1831 Bass, as an officer in the Derbyshire Yeomanry Cavalry, assisted in putting down the riots during the campaign for the 1832 Reform Act. However, Bass sympathized with the complaints of working people and over the next few years became a supporter of the reformers.
In 1848 Bass agreed to become the Liberal candidate in a by-election held in Derby. Bass was elected and held the seat for the next thirty-five years. Although Bass rarely spoke in debates in the House of Commons, he worked behind the scenes for legislation that would improve the standard of living of the working classes. This included commissioning the investigation carried out by Leone Levi into wage levels in Britain.
Unlike most Liberal MPs, Bass was a supporter of trade unions. In 1871 he commissioned the journalist, James Greenwood, to investigate working conditions in the railway industry. The articles appeared in the Daily Telegraph and exposed the conditions endured by railway workers. As a result Bass helped finance the formation of the Associated Society of Railway Servants Union. He also provided generous support for the Railways Servants' Orphanage at Derby.
Bass also donated large sums of money to Derby. This included £25,000 to provide a free library, and £12,000 for a large recreation ground and public swimming baths. Another £100,000 was given to the town of Burton.
Bass continued to be involved in running the family brewing business. By 1882 the William Bass Brewery employed over 3,000 people at Burton-on-Trent and had a turnover of £2,400,000. In the 1880s the Bass company did as much business in three days as it did in 12 months in the 1830s.
Michael Bass, who refused offers of a baronetcy and a peerage, died on 29th April 1884.