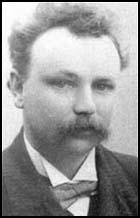 Wallace Hills, the son of Matthew Hills, chief engineer of Lewes Prison, was born in Chiddingly on 16th July, 1863. After being educated at Ardingly College Hills became a journalist. In 1881 he was appointed editor of the East Grinstead Observer. Hills later joined the board of Farncombe and Company, the publishers of the East Grinstead Observer.
Wallace Hills married Lizzie Miller of Lansdowne, Lewes. For most of their married life Wallace and Lizzie lived in Lansdowne House at the corner of London Road and Garland Road. The couple only had one child, a daughter who died at a young age.
Hills took a keen interest in politics and for twenty-five years was Secretary of the East Grinstead Conservative Association. He also played a leading role in the East Grinstead Literary and Scientific Institute, the Constitutional Club, the Sackville Lodge, Grand Pursuivant Freemasons, the Primrose League and the Sussex Buffs.
In 1902 Wallace Hills was elected to the East Grinstead Urban Council. Hills received 492 votes, at the time it was the highest number of votes that anyone had ever achieved in an East Grinstead Urban Council election. For the next twenty years Hills was the most influential person in East Grinstead. This brought him into direct conflict with other leading figures in the town such as Edward Steer and Joseph Rice, who held more progressive views than the editor of the East Grinstead Observer.
Wallace Hills was Chairman of the Urban District Council in 1906, 1911-12, 1917-18 and 1920-21. His main political success was to block the social reforms advocated by people such as Edward Steer, Thomas Isley, George Brinkhurst and Thomas Hartigan. Wallace Hills was a strong opponent of increased public spending and campaigned against the money of ratepayers being spent on parks, electric street lighting and subsidized council housing. On several occasions Hills was accused of using his position as editor of the East Grinstead Observer to distort the views of his opponents.
Wallace Hills was very interested in local history. His newspaper often contained articles from local people about the history of the town. In 1906 Hills published his book History of East Grinstead. He was also the author of The Parliamentary History of the Borough of Lewes. Hills worked as editor of the East Grinstead Observer until just before his death in 1932.
(1) Brian Desmond was a journalist on the East Grinstead Observer. In The Bulletin of the East Grinstead Society (Spring, 1983) Desmond wrote about his memories of Wallace Hills.
From his appointment until his death he must have been in command for the greater part of fifty years. This was no desk job, for he was very much the chief reporter, covering all the main events. His shorthand was fast and outlines near perfect. All copy was handwritten. He transcribed his notes with great speed, and his handwriting, punctuation and literacy left nothing to be desired. He was a public speaker of rare quality, never taken by surprise, apt at quotation and able to brighten a dull subject without facetiousness.
(2) Edward Steer, speech at the East Grinstead Urban Council meeting on 10th August, 1901.
What I object to is this. When we are seeking election the East Grinstead Observer supports a certain section of the community, and against another section to the community. A newspaper may take what side it likes with regard to the election of members, but once elected they should be treated with fairness. The editor has no right to put into their mouths words they don't use. I have suffered more than anyone I think in recent times, with what I call prejudice and biased reporting.