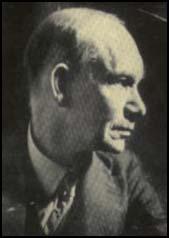 Henry Major Tomlinson, eldest son of Henry Tomlinson and Emily Major, was born in Poplar, London, on 21st June 1873. His father was a foreman in the West India Dock and as a boy Tomlinson developed a strong interest in ships.
After an education at the local school, Tomlinson worked as a clerk in a shipping office. Henry Tomlinson had died in 1886 and the family was dependent on the six shillings he received for his labours. In the evenings Tomlinson continued his education by studying geology, botany, mineralogy and zoology.
Tomlinson began contributing material to the Morning Leader and in 1904 he was employed as a full-time reporter for the newspaper. Tomlinson specialized in articles on ships and travelling. Ernest Peake, the editor, sent him on several trips including sailing 2,000 miles up the Amazon. His first book, The Sea and the Jungle (1912) was immediately identified as a classic.
Despite the success of The Sea and the Jungle, Tomlinson continued to work as a journalist. A leader-writer for the Daily News, Tomlinson was sent to France on the outbreak of the First World War. Soon afterwards he was recruited by the British Army as its official war correspondent.
Tomlinson became disillusioned with the conduct of the war and in 1917 returned to England to become literary editor of The Nation. Tomlinson worked closely with the magazine's editor, H. W. Massingham, a strong opponent of the war. Tomlinson and Massingham both resigned from The Nation in April, 1923 when Joseph Rowntree decided to sell the journal to a group headed by John Maynard Keynes.
Tomlinson's first novel, Gallions Reach, won the Femina Vie Heureuse prize in 1927. Three years later Tomlinson published an autobiographical account of his war experiences, All Our Yesterdays (1930). Another anti-war book, Mars His Idiot, appeared in 1935.
Other books by Tomlinson include two collections of essays, The Turn of the Tide (1945) and A Mingled Yarn (1953). His last book, The Trumpet Shall Sound (1957), was a story about the Second World War. Henry Major Tomlinson died on 5th February, 1958.