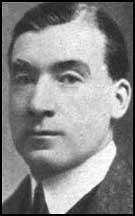 Edward George Hulton was born in Hume, Lancashire on 3rd March, 1869. His father had been a compositor on the Manchester Guardian before establishing his own papers, The Sporting Chronicle (1871) and The Athletic News (1875) .
Edward was educated at St. Bede's College, Manchester, but at sixteen left to learn the newspaper trade with his father. After serving an apprenticeship in the various departments he took over control of the business in 1894. Three years later he started a new halfpenny newspaper, the Manchester Evening Chronicle. This was highly successful and was followed by the Daily Dispatch in 1900.
In 1909 Hulton produced the Daily Sketch, a illustrated morning paper. Six years later he began publishing the Illustrated Sunday Herald. He also purchased and developed the Evening Standard. Hulton had been in poor health for many years and in 1923 was forced to retire. Hulton sold all his publishing interests to Allied Newspapers for £6,000,000.
Edward Hulton died in 1925. His son, Edward G. Hulton, later started up his own publishing empire.