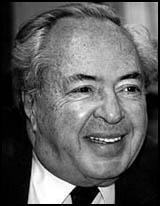 Tad Szulc was born in Warsaw on 25th July, 1926. As a young boy he was sent to a boarding school in Switzerland. Later he studied at the University of Brazil (1943-1945).
Szulc worked for the Associated Press in Brazil before moving to the United States in 1949. He covered the United Nations for the United Press International until joining the New York Times in 1953. He worked as a foreign correspondent and reported on a series of important events. This included the overthrow of Marco Pérez Jiménez, the military dictator of Venezuela in 1958. The following year Szulc published Twilight of the Tyrants (1959).
In 1961 Szulc discovered that the Central Intelligence Agency were training Anti-Castro partisans in Florida and Guatemala with the idea of invading Cuba. Szulc's article was published in the New York Times on 7th April, 1961. However, the editor removed details of the proposed invasion and the involvement of the CIA in this operation.
Later, President John F. Kennedy, told the New York Times's managing editor, Turner Catledge: "If you had printed more about the operation, you would have saved us from a colossal mistake."
Szulc joined forces with Karl E. Meyer to write The Cuban Invasion: The Chronicle of a Disaster. The CIA did not approve of the book and according to their files, Szulc was described as "anti-agency" and "under suspicion as a hostile foreign agent."
Szulc also became unpopular with the communist government in the Soviet Union for his reporting of the Prague Spring. Szulc was a supporter of Alexander Dubcek and the reform movement in Czechoslovakia. On the morning of the Red Army invasion, Szulc wrote: "Czechoslovakia was occupied early today by troops of the Soviet Union and four of its Warsaw Pact allies in a series of swift land and air movements." This resulted in him being thrown out of the country on the grounds that he was taking "an interest in secret military questions."
After leaving the New York Times in 1972 Szulc wrote several books including Compulsive Spy: The Strange Career of E. Howard Hunt (1974), a biography of E. Howard Hunt, The Energy Crisis (1978), The Illusion of Peace: Foreign Policy in the Nixon Years (1978), Fidel: A Critical Portrait (1986), The Secret Alliance (1991), Pope John Paul II (1995) and Chopin in Paris: The Life and Times of the Romantic Composer (2000).
Tad Szulc died of cancer in Washington, D.C., on 21st May, 2001.