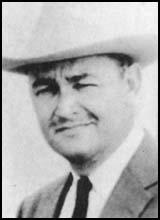 Rolando Masferrer was born in Cuba. He became a successful newspaper publisher. Masferrer was a strong supporter of Fulgencio Batista and helped organize a private army, Los Tigres, to deal with the dictator's critics. When Fidel Castro gained power it is claimed that Masferrer fled to the United States with $10 million.
Masferrer settled in Miami where he established an anti-Castro organization called the 30th of November. He also had links with Alpha 66. Masferrer attempted to organize the assassination of Castro. He also remained in contact with Santo Trafficante and Jimmy Hoffa who provided funds for his activities. According to William C. Bishop: "Hoffa gave Masferrer $50,000... expense money... to partially set up the assassination team."
Rolando Masferrer was killed in Miami, Florida, on 31st October, 1975, as a result of a dynamite bomb being placed in his car. FBI Agents Robert Scherrer and Carter Cornick believed that Guillermo Novo played a key role in the murder of Masferrer. According to Saul Landau: "Masferrer, a master of anti-Castro slogans, supported violence against the Cuban revolution. But his efforts had brought no results and the more ambitious exiled Cubans began to think of his rhetoric and his purported militant actions as a front for his "business" activities. Masferrer stood as an obstacle to Mas Canosa's plans to forge an effective and unified counter revolution".