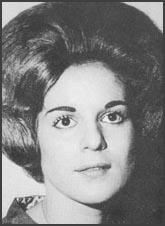 Marita Lorenz, the daughter of a German father and an American mother, was born in Bremen, Germany, on 18th August, 1939. Lorenz visited Cuba in February, 1959. Soon afterwards she began an affair with Fidel Castro and claims to have had his child. Later she was recruited by Frank Sturgis to work for the Central Intelligence Agency. In January 1960, Lorenz took part in a failed attempt to poison Castro.
Lorenz fled to the United States and joined the secret International Anti-Communist Brigade. I n 1961 met Marcos Pérez Jímenez, the former President of Venezuela. Later she gave birth to his daughter. In 1970, Lorenz married the manager of an apartment building near the United Nations. Soon afterwards the Federal Bureau of Investigation recruited her to spy on Soviet diplomats.
In November, 1977, Lorenz gave an interview to the New York Daily News in which she claimed that a group called Operation 40, that included Lee Harvey Oswald, Orlando Bosch and Frank Sturgis, were involved in a conspiracy to kill both John F. Kennedy and Fidel Castro. "She said that they were members of Operation 40, a secret guerrilla group originally formed by the CIA in 1960 in preparation for the Bay of Pigs invasion... Ms. Lorenz described Operation 40 as an 'assassination squad' consisting of about 30 anti-Castro Cubans and their American advisors. She claimed the group conspired to kill Cuban Premier Fidel Castro and President Kennedy, whom it blamed for the Bay of Pigs fiasco... She said Oswald... visited an Operation 40 training camp in the Florida Everglades... Ms. Lorenz claimed that this meeting was attended by Sturgis, Oswald, Bosch and Diaz Lanz, former Chief of the Cuban Air Force. She said the men spread Dallas street maps on a table and studied them... She said they left for Dallas in two cars soon after the meeting. They took turns driving, she said, and the 1,300-mile trip took about two days."
Gaeton Fonzi interviewd her for his book, The Last Investigation (1993): "According to his FBI contact, Marita herself volunteered, going through the nightly trash in search of useful information. She eventually split with her husband, remarried and then took up with a Mob enforcer, who ensconced her in the upper East Side digs. Unfortunately, after setting her up, her paramour was irregular in providing financial support, probably due to the nature of his business. However, Marita had managed to survive over the years by being a paid informant for local and Federal police agencies, including the FBI, US Customs and the DEA. For Marita Lorenz, life was lived on the edge."
Lorenz also testified before the House Select Committee on Assassinations where she claimed that Sturgis had been one of the gunmen who fired on John F. Kennedy in Dallas. The committee dismissed her testimony, as they were unable to find any other evidence to support it.