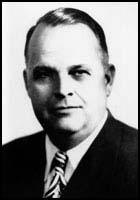 Robert Samuel Kerr was born near Ada, Indian Territory, September 11, 1896. He studied at East Central Normal School and Oklahoma Baptist University. He was admitted to the Oklahoma Bar in 1922, and practiced in Ada.
In 1926 he became a drilling contractor in 1926 and over the years built up a large oil producing company called Kerr-McGee Oil Industries. A member of the Democratic Party, he served as Governor of Oklahoma from January 13, 1943, to January 13, 1947.
Kerr was elected U.S. Senator on November 2, 1948. During his tenure as US Senator, he worked to get the McClellan-Kerr Arkansas River Navigation System developed. Kerr served on several key committees including the Finance and Public Works committees. He also forged alliances to key senators, such as Lyndon B. Johnson. Kerr increasingly became known as a key champion of southwestern oil and gas interests. Millions of dollars were diverted to military and civilian projects in the state.
According to the journalist, Milton Viorst: "Kerr was a self-made millionaire who freely and publicly expressed the conviction that any man in the Senate who didn't use his position to make money was a sucker. In a body where few of the members are averse to earning a fast buck, Kerr was the chief of the wheelers-and-dealers."
Kerr became a member of what became known as the Suite 8F Group. The name comes from the room in the Lamar Hotel in Houston where they held their meetings. Members of the group included Lyndon B. Johnson, George Brown and Herman Brown (Brown & Root), Jesse H. Jones (multi-millionaire investor in a large number of organizations and chairman of the Reconstruction Finance Corporation), Gus Wortham (American General Insurance Company), James Slither Abercrombie (Cameron Iron Works), William Hobby (Governor of Texas), Richard Russell (chairman of the Committee of Manufactures, Committee on Armed Forces and Committee of Appropriations), Albert Thomas (chairman of the House Appropriations Committee) and John Connally (Governor of Texas). Alvin Wirtz and Edward Clark, were also members of the Suite 8F Group.
Robert Samuel Kerr died on 1st January, 1963.
(1) Milton Viorst, Hustlers and Heroes (1971)
While Bobby was playing politics with Lyndon and arranging parties with Gorgeous George, he was learning about a whole new facet of life from Senator Robert Kerr of Oklahoma. Kerr was a self-made millionaire who freely and publicly expressed the conviction that any man in the Senate who didn't use his position to make money was a sucker. In a body where few of the members are averse to earning a fast buck, Kerr was the chief of the wheelers-and-dealers. For some reason, he took a shine to Bobby and found him an apt and receptive pupil. He helped Bobby get started as a businessman, both with advice and with cash. Bobby learned to play the stock market, then spread out into other ventures. His biggest undertaking in the late Fifties was the Carousel Motel, which he built on a, patch of desolate beach near Ocean City, Maryland, a few hours from Washington. Its opening in 1962, which Lyndon and Lady Bird and dozens of other Washington celebrities attended, was a major social event, covered in detail by the status-conscious women's pages of the local papers. It is doubtful that anyone suspected that in the fun at the Carousel lay the seeds of Bobby's downfall. For Bobby, after all, was among the most respected young men in official Washington. He was the protege of Johnson, Smathers and Kerr. Without a single voter behind him, he had shown he could keep up with the fastest pacers on Capitol Hill. As the Presidential election of 1960 approached, Bobby's potential for growth appeared unlimited.
(2) Russell Kirk, Political Errors at the End of the Twentieth Century (1991)
During the Kennedy and Johnson Administrations, probably the richest man in the Senate was the most corrupt of senators: Kerr of Oklahoma, whose devious enriching ways are candidly described by his lieutenant, Bobby Baker, in the latter scoundrel's memoirs. To perceive how deep in peculation was President Johnson himself, assisted by his agents Bobby Baker and Billy Sol Estes, one may turn to the recent memoirs of a Republican of integrity, Senator Carl Curtis, entitled Forty Years Against the Tide.
(3) Bobby Baker, Wheeling and Dealing: Confessions of a Capitol Hill Operator (1978)
There was big money to be made, Kerr said, by gaining a near monopoly on soft drink, candy, and cigarette machines to be installed at sites where companies were performing defense-related work that depended on government contracts. I've heard that Clark Clifford, the Washington lawyer-lobbyist who's been close to every Democratic administration beginning with Harry Truman's, talked Senator Kerr out of investing in the scheme because it clearly would constitute a conflict of interest on Kerr's part. Senator Kerr then told Fred Black, "I want to help Bobby Baker. I'll get you the financing if you guys want to go into the vending machine business. There's a fortune to be made." True to his word, Senator Kerr obtained a $400,000 loan for us from the Fidelity National Bank and Trust Company of Oklahoma City, in which he owned stock. We spent the money for vending machines, installing them - among other places - at North American Aviation and at several subsidiary sites. Within a couple of years the Serv-U Corporation we founded-along with my law partner, Ernest Tucker; a Las Vegas hotel-casino man, Eddie Levinson; and a Miami investor and gambler, Benjamin B. Siegelbaum - was grossing $3 million annually. I owned 28.5 percent of the Ser-U Corporation in those days.