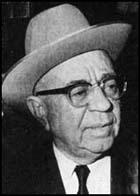 John Will Fritz was born in Dublin, Texas, in 1895. When he was a child his family moved to Lake Arthur, New Mexico. Fritz later returned to Texas and after taking part in the First World War he joined the Dallas Police Department in January, 1921. He started as a patrolman but after two years he was promoted to the detectives office. In 1932 Fritz became captain of homicide and robbery.
According to his biographer: "Though he was made inspector of detectives in 1935, he voluntarily returned to being a captain in 1944. In 1947 he received the special title of senior captain, and later he reportedly refused the opportunity to become police chief. During his leadership of the homicide and robbery bureau, Fritz gained a reputation as an effective interrogator. In one ten-year period the homicide division reported 98 percent of the murders in Dallas cleared by arrest."
On 22nd November, 1963, Fritz was on duty at the Trade Mart when President John F. Kennedy was assassinated. He then went to Dealey Plaza and was with Seymour Weitzman, Roger Craig, Eugene Boone and Luke Mooney when the rifle was found on the sixth floor of the Texas Book Depository.
After Lee Harvey Oswald was arrested Fritz was put in charge of his interrogation. Also present during these interviews was FBI agents, James Hosty and James W. Bookhout. Also there was T.J. Nully and David B. Grant (Secret Service) Robert I. Nash (United States Marshal) and Billy L. Senkel and Fay M. Turner (Dallas Police Department).
Oswald was interrogated for a total of approximately 12 hours between 2:30 p.m. on Friday, November 22, 1963, and 11:15 a. m. on Sunday, November 24, 1963. There were no stenographic or tape recordings of these interviews. Fritz did not get a confession from Oswald but became convinced of his guilt and just before midnight he formally charged him with the president's murder.
Under the direction of Dallas police chief Jesse E. Curry, Fritz helped plan the transfer of Oswald to the county jail and was present when Oswald was shot and killed by Jack Ruby during the move two days later. Fritz refused several times to sell his story regarding the investigation of the murders of John F. Kennedy and Lee Harvey Oswald.
Will Fritz, who retired on 27th February, 1970, died of cancer on 19th April, 1984.